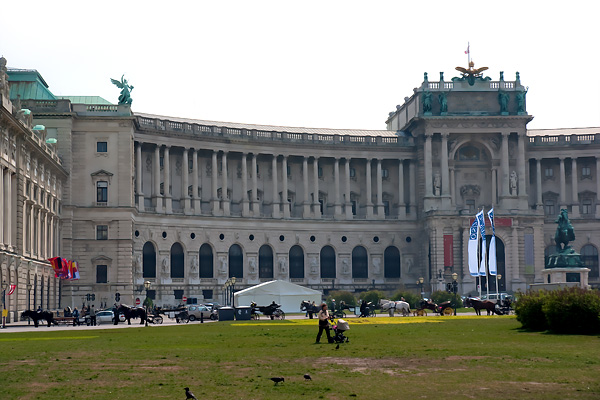 Hofburg seen from Heldenplatz
Welcome to Vienna, Austria
Vienna (in German: Wien) is one of the most beautiful cities and provides
highest quality of living
. Its famous historic center was designated a
UNESCO World Heritage Site
. As the capital of the former Austrian empire Vienna played an important role in Europe for centuries, giving us magnificent buildings like the
Hofburg
and the
Schönbrunn
and
Belvedere
palaces. Today Vienna is the capital as well as cultural and economic center of the Republic of Austria and hosts major international organizations such as the United Nations, OPEC, and OSCE. Vienna is still regarded as the musical capital of Europe or even the whole world. Exciting
concerts
and impressive
exhibitions
attract tourists at any time of year.
See Vienna's official tourist information website and our recommendations of places you may want to visit.
Orientation:
The
city map
shows the historic evolution of Vienna: Circular streets passing around the city center reflect earlier city limits, and radial streets connect the center with the neighborhood in each direction. Well-known circular streets are the Ringstraße enclosing the historic city center and the Gürtel as an arterial road. All streets have names, and all houses in a street have mostly consecutive numbers that increase with the distance from the city center. Many signs on houses and crossroads tell you your current position.
Public Transport:
Vienna has efficient means of public transport. There are underground, tram, and bus lines as well as railways, all usable with the same ticket. A single ticket is valid for travelling one way (no loops) in one zone, where the whole city of Vienna is a single zone. You can change to different lines in the course, but you must not interrupt your journey. Single tickets can be purchased at a price of € 1.80 at ticket machines in underground and railway stations and at points of advance sale. Tobacconists also sell tickets. Usually there are no ticket machines at tram and bus stops. You can purchase tickets on board of busses and trams at an increased rate of € 2.20. Tickets must be validated at the begin of a journey. To validate a ticket stamp it at the blue or red machines located at the entrances of underground and railway stations as well as on buses and trams. Tickets bought directly from the tram or bus driver (and some tickets from ticket machines - be careful) are automatically validated and need not be stamped. Apart from single tickets there are passes for longer periods of time. Passes are available for 24 hours and 72 hours (beginning at the time when stamped) and as weekly, monthly and annual passes.
See information on traveling to Vienna.
Weather:
The average daily maximum temperature in September is 20°C and the average daily minimum is 12°C. There is a high chance of fair weather although misty and rainy days are possible.
Time:
Austria is, as most European countries, in the Central European Time zone (CET) and uses daylight saving time (Central European Summer Time, CEST, this is UTC+2).
Safety:
Vienna is one of the safest cities. Nonetheless it is advisable to take care of valuables especially at crowded places and in public means of transport.
Telephones:
To call international locations, dial 00 followed by the country code. The country code of Austria is +43, and the area code of Vienna is 1.
Payment:
The currency is the Euro (€, EUR). ATMs are available at many places. Maestro cards are accepted in almost all shops, credit cards (mainly MasterCard, Visa, and American Express) only if there are corresponding signs on the door or cash register. It is customary to tip waiters and cab drivers up to about 10% depending on the quality of service. Advertised prices include all taxes (VAT of 10% or 20% depending on the product type).
Data About Austria:
Austria has a population of about 8.3 million on an area of 83,872 km². Its terrain is largely mountainous due to the presence of the Alps. The majority of the population speaks German which is the official language. Austria is composed of nine federal states. It is a member of the European Union and belongs to the Schengen Area (no border controls within this area).
Data About Vienna:
Vienna has a population of about 1.7 million on an area of 414.9 km². It is located at the easternmost extension of the Alps in the Vienna Basin. The Danube River flows through the northern part of Vienna; only a small branch (Danube canal) touches the city center. Vienna is a federal state of Austria composed of 23 districts.